The area of ​​Kleftovrisi is located in the North Olympus, in the stream of Arapis, above Vrodou, which is a semi-mountainous town of the prefecture of Pieria and also the entrance of Olympus from its north side. Many climbers are having Vrodou as a starting point for the mythical mountain's summits. Before the entrance to Mount Olympus, in the place called Agii Apostoli, there is the Information Center of the Olympus National Park and Vrodou Mountaineering Club and in the altitude of 1100 m there is the mountain refuge of "Krevatia"
In Kleftovrisi, after a gun fight ( in 1925) the famous Greek bandit Yangoulas was killed
USEFUL INFORMATION
Distance from Thessaloniki: 84 km
European Emergency Number: 112
Fire Brigade Dept: 199
Medical Emergency: 166
Vrodou Mountaineering Club: 697 222 4665
https://www.eosvrontous.gr/
Agia Kori (alt.300m) – Mastorouli's spring (alt. 970m) – Kleftovrisi (alt. 1380m)
Route Information
Route Description: Trekking
Route Length: 8 km
Water in route: Yes
Duration: 4 h (ascent) – 4H (descent)
The route took place in MAR 2019
From Vrodou we take the road leading to Agia Kori. We cross the junction for Old Vrodou and Ag. Triada and in about 4 km we see the beginning of a forest road. From here we are starting the ascent. We follow the road freely, but also we are using many times the path that crosses the road. We walk about 1.5 hours, having on our left the stream of Agia Kori when we reach a point where the road becomes slightly downhill, just before crossing the ravine.
On our right we see a steep uphill road. We are following it and in about 15 minutes we come across a sign that writes "water". We follow the path and soon we reach the spring of Mastorouli (alt. 970 m).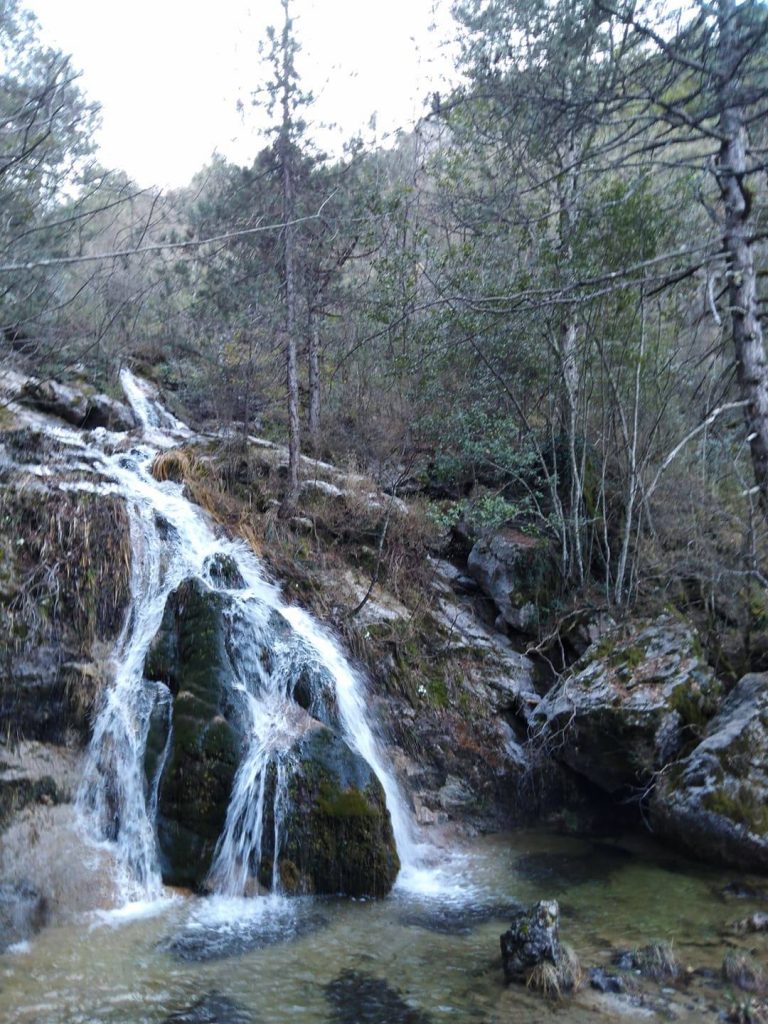 We are back on the road again, which is very uphill and drives deep into the ravine. In about 1 hour, we see on our right an ascending path and we follow it. The path follows the ravine and being in higher altitude, than the ravine itself, is giving us a better view. The path intersects with the ravine far above, it passes across and continues ascending. Once it goes to the opposite side of the ravine, it becomes not clear and the only help for our orientation are some red marks. We continue our climb, trekking between the big , tall Cedars, and in about an hour, our path brings us into a neck in the woods. Shortly, the inclination is getting normal and we are heading south for another 10 minutes until we meet Arapi's stream in front of us, while higher , in the horizon, we can see the majestic peak of Skourta.
We enter the ravine, descending, with great precaution, on the left side, for another 20 minutes and we meet a path to the right that leads us to Kleftovrisi (1380 m). The return is done by following the same route backwords.
Photos: George Manolopoulos Text: Constantine Tsakanikas